Testimonials
Reiki:
"I felt the heat coming off of your hands and tingling down my spine."

"I have asked Leslie to send her special distance Reiki and I can tell you that it helped me and my sweet fur babies. If you live near her give her a call, take a class, you will not be disappointed."
"I enjoyed that (Reiki) much more than I thought I would."

"I can feel the reiki energy that soothes the soul."
"That (Reiki) was beautiful."

"Even after you removed your hands, it still felt like they were still there."

"I don't know how you knew I had issues in that part of my body."

"During your guided meditation & Reiki session, I saw my entire life and realized just how blessed I've been. Happy tears!"
"I saw the most beautiful light!"
"I've never felt this relaxed in my life!"
"Thank you so much for the beautiful session. I was incredibly relaxed, serene & blissful."
"I could feel the healing and the love."
"When we started I had a pain on my side, which was gone by the end of the session. You are truly blessed and I am very, very grateful!"
Additional Reiki reviews: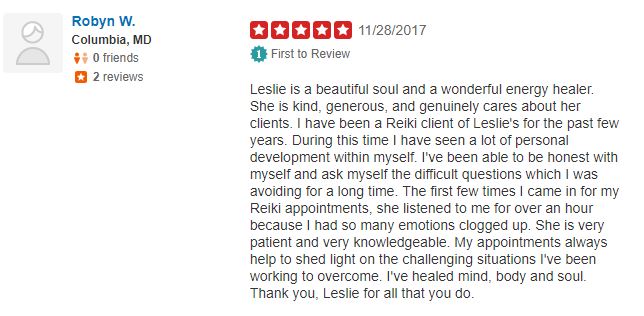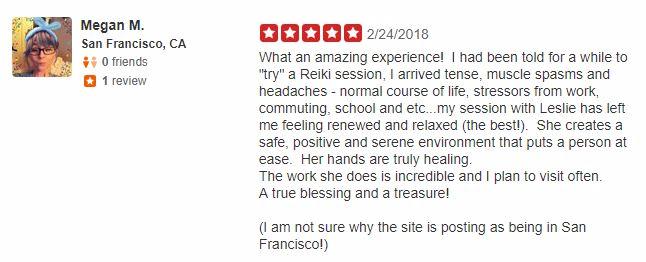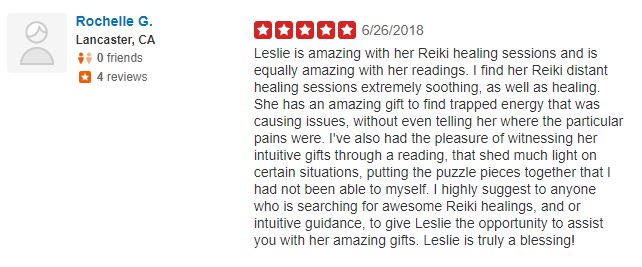 Intuitive Readings:
"I was blessed to win a reading from Leslie and it made the hairs on my neck stand on end with her accuracy!! I love her page which is full of amazing guidance and positivity."
"Leslie is quite gifted and very accurate in her readings always spot in! Beautiful lady, beautiful light!"
"It couldn't have been any more "spot on" to my situation. She hit on a number of points about me that she had no way of knowing. I'd recommend!"
"Reading was spot on."

"Leslie gave me a reading and what she said was absolutely true and for that I thank her."
"You've always been spot on with your intuition and guidance for exactly what's going on in my life. Your support has helped me make decisions that I was on the fence about. You truly have a gift. Thank you for your blessings and love."
"Oh my goodness, thank you! You'll never know how comforting your reading was."
"The reading that I received was accurate, and actually Leslie validated what I had been receiving throughout the week. More than that, Leslie had been gentle and supportive when I spoke to her privately. She certainly hit exactly on the point that God had been trying to get through to me. She made it all click. Thank you, Leslie for being such a blessing to so many of us."

"Wow, thank you so much. Very accurate indeed!"

"Reading was so perfectly on target. I don't even know what to say."
"I had a reading and cannot believe how Leslie seemed to answer what I had been thinking about for the past week. So grateful and many thanks!"

"My oracle card and intuitive reading that Leslie from Inner Calm Reiki gave to me was so accurate, it was like she knew who I was. Who I really was inside, even though we are on opposite sides of the world. Much love emanates from this incredible lady."

"Thank you so much. You were spot on with everything. I am so grateful for your reading."
"With tears in my eyes. Your reading was spot on."

"So spot on...all of it!"

"The most accurate reading ever. Smiling with pure delight!"

"Wow, that was extremely accurate!"

"I'm so grateful! This reading means so much to me!"

"You nailed it!"

"Brushing away tears of gratitude & joy! Thank you!"

Reiki Students:
"I had an interest in Reiki a few years back, but did not take a course until the right person came into my life. I met Leslie ... and felt like it was finally the right time to begin my Reiki training. I have taken both Level 1 and 2 courses with Leslie, and cannot wait to take Level 3 with her. I am so amazed at what I have learned thus far. Through the process of receiving my attunements, a door opened in my intuitive awareness. Reiki energy is real. Leslie is both a gentle, patient, and passionate Reiki teacher, with a beautiful way of teaching with both high integrity and laughter. Additionally, she is a powerful healer. The best gifts of all are the results I get when I do self-Reiki. Amazing emotional healing thanks to my Reiki Master, Leslie. Beyond words. I recommend Leslie to anyone who is looking for a caring and dedicated Reiki Teacher."